Blocky Fish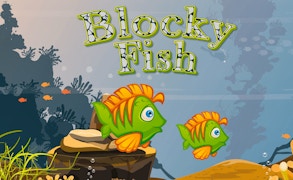 Blocky Fish
Description
Dive into the thrilling underwater world of Blocky Fish. An exciting arcade adventure game that tests your agility and reflexes as you navigate a pixelated fish through a water-filled journey. Obstacles lurprisingly lurk beneath the surface, making your aquatic quest increasingly challenging. The further you go, the more complex the trials become! Will you be the one to guide Blocky Fish to victory? Blocky Fish is waiting for your command.
How to play
Playing Blocky Fish is simple, yet requires concentration. Use your mouse or keyboard arrows to steer the blocky fish left or right, avoiding obstacles as you swim along. Your progression determines the game's difficulty level - it increases the further you travel. Gather power-ups along your journey to boost your performance and dominate the game.
Tips and Tricks
Become an expert in Blocky Fish with these tips. Anticipate obstacles and react swiftly - this isn't just about speed but precision too. Utilize available power-ups wisely for they are lifesavers in dodging difficult barriers. Remember, practice makes perfect! The more you play, the better you become at predicting challenges and maneuvering around them.
Features
Vibrant Graphics: Entertain yourself with visually pleasing block-style graphics.
Progressive Difficulty: Ensures an exciting challenge for every level of player.
Addictive Gameplay:The easy-to-learn but hard-to-master gameplay will keep you coming back for more.
Kid-Friendly:A suitable game for all ages with its simple and engaging playstyle.
What are the best online games?
Tags