Blockminer Run Two Player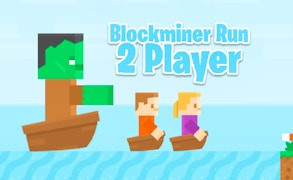 Blockminer Run Two Player
Description
In Blockminer Run Two Player, you join forces with a friend to take on the role of two miners in a high-stakes escape. Trapped by a gigantic zombie, the goal is to successfully flee on your boat without touching land. Navigate through pixelated landscapes, mined terrains, and dangerous obstacles using seamless controls that will keep your adrenaline pumping!
How to Play
The game offers easy-to-use controls for both players. Player one must press the "W" key to make their miner jump, while player two uses the "Up Arrow" key. On mobile, touch control is available for intuitive gameplay. Remember, avoid touching land otherwise your boat will break and sink!
Tips and Tricks
An essential tip when playing Blockminer Run Two Player is timing your jumps perfectly to avoid the landmasses. Communicating with your co-player can significantly improve your chances of survival against the looming zombie threat. Keep practicing - this game rewards persistence!
Features
Dual Player mode: Enables you to enjoy an immersive gaming experience with a friend.
Addictive Gameplay: Offers a unique blend of mining and running games that keeps players hooked.
Pixilated Graphics: The old-school, pixel-art style graphics provide a nostalgic gaming environment.
Zombie Pursuit: Offers an extra level of thrill as you evade a giant zombie throughout the game.
What are the best online games?