Blob Opera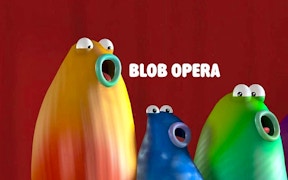 Blob Opera
There are games that are very upfront about what they're trying to do and will openly admit to being experimental like with Blob Opera. This quirky little experience places you in the role of a conductor overseeing four very vocally talented blobs. As they sing and change form, they will produce different degrees of sound. You have a small but capable group to put together an opera performance that will at least be memorable for all those who see it. And who knows? Maybe it will ignite a spark inside you that will encourage you to seek out other music-related content or perhaps just more blobs.
About Blob Opera
This is something that could not be easily called a game as it's more like an activity or even a tool. The developer wanted to try something new with a limited amount of input and managed to create something that could be quite entertaining in its own way. Even if you don't know anything about opera, you can still appreciate the sounds and the effort that comes into producing them. As a conductor, you can find it challenging to harmonize all the sounds together in a way that is pleasing to the ear, but you've just got to play around and see what works.
How to Play
Blob Opera is a 3D singing game about conducting a group of four blobs to sing opera. After an initial tutorial, you'll learn that each blob has a different vocal range that they will sing at a constant volume when you click on them with the left mouse button. By clicking and holding on the blob you can stretch them up or down and left or right. This will change the pitch of their singing which the other blobs will imitate.

The blob order starts on the right and goes left, with each subsequent blob singing in harmony with the one that you're currently conducting. As you play around with the blobs, you'll get a better idea of their sound and range. Once you're ready, you can click the record button in the bottom left corner to capture whatever performance you decide to conduct. Alternatively, you can change the background of the blob group by choosing to take them on tour using the button in the bottom right corner. This will give you a list of well-known cities around the world, each with its own distinct landmarks and locations. When you're satisfied with where your blobs are, lead them in a rendition of whatever performance that you want

Tips and Tricks
There's no real challenge or goal to this game other than to gain an understanding of opera. Aside from doing outside research on your own, just play around with each blob until you have a very clear idea of their vocals. This will help you conduct them in a way that is pleasing or at least entertaining.
Game Details
Developer: David Li
Platforms: Web Browser (PC and mobile)
Languages: English
Gameplay Footage
FAQs
What is the vocal range in Blob Opera?
You have four blobs positioned next to each other arranged based on their vocals. From right to left: Bass, tenor, mezzo-soprano, and soprano. As you can deduce, the vocals become higher as you cycle through the blobs.

Games similar to Blob Opera
Based on the premise and the interaction, this game can be found in the Piano and Music Games categories on GamePix. Also in these sections are games like Perfect Piano, Don't Tap, Music Rush, and Super Friday Night Funkin'.
What are the best online games?