Black Stallion Cabaret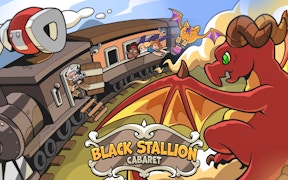 Black Stallion Cabaret
Unleash your inner adventurer with the riveting Black Stallion Cabaret, a compelling blend of monster games, battle games, and gun games. This innovative cross-genre triumph effectively mashes up elements from clicker games and idle games, all while integrating a dash of fantasy with charismatic dragon games.
The intriguing premise sees you, the player, commandeering an armored train filled to the brim with enchanting dancers. Your mission: traverse the vast country, bringing joy to townspeople everywhere through spellbinding performances. But beware, you're not just on tour. You're also tasked with repelling relentless monster attacks to safeguard your precious cargo—the heart and soul of your show—the dancers.
In this thrilling adventure, you're master of a dynamic workshop where creation meets strategy. Here you create and merge items, boosting their level to strengthen your defenses and performance capabilities. Brawn meets beauty as powerful weaponry is essential in fending off a torrential wave of menacing monsters.
The game's battle mechanics interweave seamlessly with its core idle nature. You have to strategically manage your time as the confrontations with hostile monsters are high-stakes automatic battles where you only have 30 adrenaline-filled seconds to eradicate an entire monster squad.
Your gallant dancers don't just dazzle audiences; they provide tangible rewards, including coveted train car parts. Use these essential components to improve your existing carriages or purchase captivating new ones, ensuring your cabaret remains the peak of entertainment no matter where the tracks may lead you.
In conclusion, Black Stallion Cabaret is more than just an adventure; it's a captivating journey that perfectly meshes monster warfare with rhythmic charm—an unlikely pairing that creates an unforgettable gaming experience. Climb aboard this magical armored train—your epic odyssey awaits!
What are the best online games?