Bingo Solo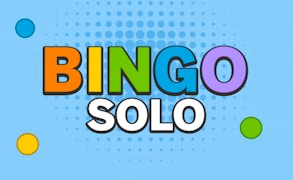 Bingo Solo
Welcome to the unparalleled world of solo gaming with the phenomenal arcade game Bingo Solo, a fresh take on traditional bingo games tailored for individual entertainment.
As a standout in the realm of clicker games, Bingo Solo blends simplicity and fun into an addictive package that's perfect for those leisurely hours. The game stands out as a vanguard, reshaping the landscape by offering us a single-player bingo delight, eradicating the need for computer or AI opponents. This unmatched feature enhances Bingo Solo's appeal, making it an exceptional choice amongst the myriad of family games.
The gameplay is straightforward yet captivating, perfectly suited for solo play. Choose from three different speeds according to your liking, and you're all set. This feature injects versatility into the game's rhythm, allowing you to control your gaming experience as per your mood and tempo.
One of Bingo Solo's strongest highlights is its incorporation of real voices that call out numbers, augmenting the authenticity of your experience. You get to virtually relive traditional bingo nights right at your home!
An interesting addition is its ability to function seamlessly in offline environments; an antidote to those dull moments when you're stuck without Internet access. What's more? The game comes with win patterns included; these pre-set templates will keep you on your toes and make each round exciting and unique.
In conclusion, Bingo Solo blends classic charm with modern convenience. It is an ingenious addition to the array of clicker games, remapping what we know about bingo gameplay while successfully rendering a delightful solo experience!
What are the best online games?