BFF Wedding Dress Design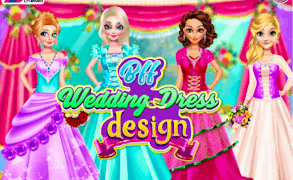 BFF Wedding Dress Design
Unleash your inner designer and step into the world of glamour with BFF Wedding Dress Design, an imaginative game that finds its place among the best in Games for Girls, Princess Games, Dress up Games, and Fashion Games. This game provides an enchanting journey that takes you alongside Disney's favorite royals - Rapunzel, Anna, Elsa, and Moana - for the most talked-about event of their lives.
Its premise is as exciting as it sounds; these princess BFFs are on the hunt for their dream wedding dresses and it's your job to help them! If you've always been captivated by the world of bridal fashion, here's your chance to indulge in it. This isn't just about dress fitting - it's about making dreams come true in a fabric spectacle that will leave everyone gaping in awe.
The gameplay itself is engaging with layers of excitement. Whether you're helping Elsa to choose a royal blue gown that mirrors her icy powers or suggesting Moana to go for something that reflects her island heritage, there's never a dull moment! The attention to detail in every stitch and gemstone is remarkable, making each princess look no less than divine.
In addition to being a feast for the eyes, BFF Wedding Dress Design also fosters creativity and imagination. With endless combinations of sparkling tiaras, delicate veils, and intricate gowns, you can create wedding ensembles that would put even top fashion designers to shame!
BFF Wedding Dress Design effortlessly merges the realms of fairytale romance and high-end fashion. It's more than a game; it's a heart-throbbing fashion saga that oozes charm from every pixel. If you've ever dreamt of becoming a part of Disney's magical weddings this game satiates your cravings beautifully!
What are the best online games?