Beauty Run Run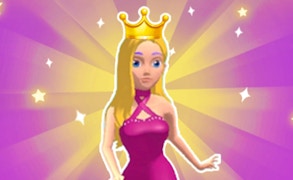 Beauty Run Run
Step into the captivating world of Beauty Run Run, a game that wonderfully amalgamates the genres of running games, fashion games, and Hyper Casual Games. The game is designed to cater to all, but its colorful art-style and empowering message hold a special charm for those in search of Games for Girls.
Your journey in Beauty Run Run begins with the simple act of running. Like most running games, the aim is to avoid obstacles, collect items, and reach your destination. However, the game stands apart from its contemporaries through its unique twist: you are not just running for survival or high scores; you are running to fulfill your dreams.
The game offers you the freedom to try out various professions. Ever fantasized about strutting down a runway as a model? Or maybe stepping into the brave shoes of a firefighter? Beauty Run Run gives you the opportunity to live these dreams in a casual and fun environment. This feature makes it one of the best fashion games and adds an extra layer of depth often absent in other Hyper Casual Games.
Crafted carefully with controls suited for all ages, this game offers an engaging gameplay experience. Its vibrant graphics complemented by an upbeat soundtrack totally immerse you into a world where everyone can be beautiful. Whether it's skiing down icy slopes or splashing around in a water park, every activity offers its own unique joy.
In conclusion, Beauty Run Run delivers on all fronts. It combines elements from various genres such as fashion games and running games beautifully while maintaining the simplicity and charm associated with Hyper Casual Games. Featuring an empowering message that echoes throughout your playtime: "There is no standard for beauty, everyone can be beautiful!", this game wonderfully emphasizes inclusivity and self-expression.
What are the best online games?