Beat Line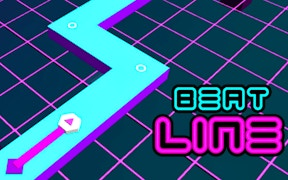 Beat Line
Are you a music enthusiast with an insatiable craving for fast-paced, rhythm games? If so, then Beat Line, an avant-garde fusion of clicker games and music games, is here to captivate your senses. This masterfully crafted blend of skill games and tap games will keep you on your toes as you navigate through mesmerizing 3D landscapes with a single mission – conquer the beat!
Let's delve deeper into the exhilarating world of the Beat Line. The rhythm of pulsating EDM forms the backbone of this game. It is not only about clicking or tapping on your screen. It's about syncing your taps to the hypnotic beat, making every sharp turn a testament to your rhythmic precision.
The visual aesthetics of Beat Line are nothing short of spectacular, with an array of beautiful 3D scenes to navigate through as you maintain your tempo. The game blends music and arcade gaming seamlessly, transforming seemingly simple tap tasks into dramatic turns that are both engrossing and challenging. The charm lies in how it tests your skill - you need to time your actions meticulously, tapping carefully at key moments, to successfully make through the course.
As an added incentive, collectible crystals are scattered throughout the game's landscapes. These magical tokens unlock a variety of quirky objects - ever thought you'd covet a sandwich or a diskette in an arcade game? Well, in Beat Line, they're integral pieces of this riveting rhythmic journey!
In conclusion, Beat Line sets itself up as one of those essential arcade experiences for both casual gamers and hardcore EDM enthusiasts alike. It draws you in with its appealing visuals and keeps you hooked with challenging tasks set against a backdrop of high-energy beats. There's no doubt that Beat Line is winning over hearts in the world of tap games - so why not dive right in and see if you've got what it takes to become a beat master?
What are the best online games?