Bears Adventures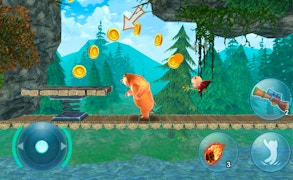 Bears Adventures
Intrinsically woven into the fabric of the adventure genre, Bears Adventures seamlessly marries animal games, running games, skill games, and escape games to offer an exciting playground for gaming enthusiasts.
Bears Adventures, an avant-garde offering in the animal gaming landscape, invites players on a groundbreaking journey to assist bears in accomplishing myriad missions strewn across diverse world settings. Presenting a host of missions peppered across multiple worlds, this game leverages complex mechanics to compel gamers to rely on their skills for completion.
The range of distinct characters on offer, each equipped with peculiar strengths, provides an added layer of strategic depth to this enchanting escapade. While the ability to upgrade characters bestows an element of RPG-esque customization, contending with a whole host of adversaries necessitates deft maneuvering and quick action. Herein lies the true beauty of Bears Adventures - it's not just a running or escape game; it's a showcase of versatility and adaptability.
From using WASD/Arrows for movement and jumping to Space for shooting and the Mouse for unleashing extra skills - each control mechanism is designed meticulously to provide an immersive experience. As you delve deeper, it transforms from just one among many skill games into a test of reflexes and strategy. Whether it's dodging enemies or mastering extra skills, each challenge pushes you towards becoming not only a better gamer but also a more patient strategist.
In essence, Bears Adventures transcends ordinary boundaries set by other animal games or escape games. This adventure game redefines skill gaming by incorporating elements from various genres while ensuring constant engagement through dynamic controls and character growth opportunities.
What are the best online games?