Beach Assault GunGame Survival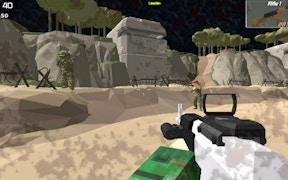 Beach Assault GunGame Survival
Step onto the virtual battlefield with Beach Assault GunGame Survival, a thrilling addition to the pantheon of shooting games. This immersive masterpiece effortlessly combines elements of gun games, battle games, sniper games, and war games, placing it firmly in the genre of must-play survival games.
Your adrenaline will race as you navigate each meticulously constructed level, your senses heightened by the realism that only Beach Assault can offer. The realistic gun game features an astounding armory of 24 unique weapons, providing versatility that keeps gameplay consistently exciting and challenging.
The competition intensifies as you square off against both real players and craftily designed bots across a variety of modes. From the high-paced chaos of free-for-all to the strategical play in team vs team mode, this game has something to offer for every combat enthusiast.
Dive deeper into the apocalyptic scenario as you battle it out against other players while playing as a zombie; an experience guaranteed to bring out your primal instincts for survival. The highly engaging wave survival mode tests your skills as you defend against relentless waves of foes.
If you're looking for an offline challenge, Beach Assault GunGame Survival again delivers with 40 gripping levels awaiting your confrontation. As challenging as they are gratifying, these levels coax you into returning every day eager for more.
In conclusion, whether you're a fan of sniper games, thrilled by battle games or just can't get enough of enthralling survival games; Beach Assault GunGame Survival is a game worthy of your time and commitment. Awe-inspiring, adrenaline-pumping and immensely enjoyable; this game sets itself apart in the crowded arena of gun-based war games. Prepare yourself - Beach Assault GunGame Survival is here to revolutionize your gaming experience!
What are the best online games?