Battle Simulator - Police Prison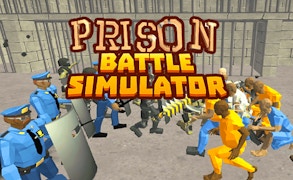 Battle Simulator - Police Prison
Description
Experience the thrill in Battle Simulator - Police Prison, a high-stakes action-packed game leading a squad of law enforcement officers. You'll orchestrate daring escapes from prison, navigate through intricate levels, and battle cunning inmates as you strive to uphold justice. Showcasing unique gameplay dynamics and immersive simulator scenarios, this game ensures non-stop suspense and excitement.
How to play
To play, use your mouse to select your police unit and click on the battle scene to strategize their positions. As you progress, unlock new officers with diverse capabilities. Utilize each unit's skills smartly to maximize performance in the field. Navigate through each level by executing well-planned escapes and tactically outsmart your opponents.
Tips and Tricks
Remember, every officer has unique skills - use them strategically based on the mission requirements. Keep your strongest units up front, maintain proper formations, and always be ready for surprise attacks by convicts. Gain an advantage by finding potential escape routes quickly.
Features
Realistic Battle Simulations: Experience gripping action sequences.
Diverse Units: Command a variety of police officers with unique skills.
Puzzle-like Scenarios: Each level poses different challenges requiring thoughtful strategy.
Innovative Escape Routes: Use your wits to plan and execute daring escapes.
What are the best online games?