Battle Heroes 3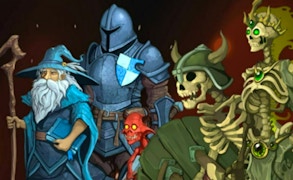 Battle Heroes 3
As an RPG lover, immerse yourself in the fantasy world of Battle Heroes 3, masterfully crafted as a blend of various genres such as sword games, knight games, and MMORPG games. This dynamic game is an impressive addition to the realm of battle games and skill games, that offers you an experience beyond the conventional.
Your journey begins as a valiant mercenary, dispatched to the borders of a majestic kingdom. Your primary tasks involve harnessing your combat and magic skills for survival and protection. The surprising depth of the game thrives on its intricate design that caters to both, RPG veterans looking for a challenge and novices looking to step into the creative realm of knight games.
In Battle Heroes 3, exploration is everything. The massive environment beckons you to wander into its corners in search of magical items and secrets. Whether it's exploring ominous catacombs or scaling towering cliffs, each inch of this beautifully-rendered world is brimming with potential discoveries.
The game's complexity doesn't end at exploration. Strategy here is paramount - developing your hero's skills along with warriors, towers, aura, magic, weapons turns battles into immersive experiences requiring tactical decisions and quick reflexes.
As if that wasn't enough, Battle Heroes 3 also gives you your very own mythical pet – a mighty dragon or a fearsome cerberus! Not merely vanity pets, these stalwart companions aid you in battle making them more than mere sidekicks in your quest for glory.
Battle Heroes 3 stands on the pinnacle of modern RPGs with its dynamic gameplay and rich storytelling. It transcends ordinary sword games and battle games by offering engaging character development options, thrilling battles and unlimited exploration opportunities!
What are the best online games?