Banana Joe Triple Jump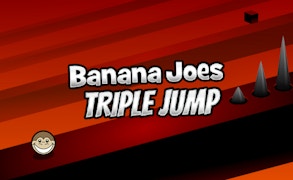 Banana Joe Triple Jump
Description
In Banana Joe Triple Jump, you guide a daring, agile animal on an energizing race to outwit various obstacles. This captivating game blends simple gameplay mechanics with endless gaming experience, providing a thrilling challenge to beat your own high scores. One mishap and your character could explode, marking the end of your run!
How to Play
To play Banana Joe Triple Jump, tap the screen to prompt up to three leaps before touching the ground again. Be vigilant of the dangerous obstacles or risk having your character go kaboom! Your ability to time jumps perfectly is key in mastering this game. Each tap could mark a new record or signify your downfall!
Tips and Tricks
Mastery of timing is vital in Banana Joe Triple Jump. Practice makes perfect! Prioritize avoiding obstacles over collecting power-ups or bonuses. Always remember, it's not about how many items you collect but rather how long you can stay in the game!
Features
Intuitive Play: Simple screen taps control all movements.
Addictive Gameplay: The endless nature of this game keeps you engaged for hours.
Achievement Tracking: A built-in high score tracker lets you see your progress.
Vibrant Graphics: Eye-catching design adds excitement and charm to the game.
What are the best online games?