Backwater Fishing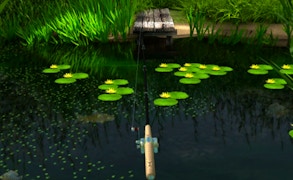 Backwater Fishing
Immerse yourself in the serene beauty of nature with Backwater Fishing, a thrilling entry in the realm of fishing games and simulator games. Developed by playcombo.com, this game offers an unadulterated experience of relaxation and excitement, all rolled into one captivating package.
In Backwater Fishing, players journey into a tranquil world that melds perfectly-drawn visuals and calming audio cues. It effortlessly creates an atmosphere for gamers to unwind to the rhythm of nature's pulse. The game invites you to kick back, soak in the ambient sounds of the wilderness, and watch fish glide seamlessly through crystal-clear waters.
As a fishing simulator, Backwater Fishing beautifully replicates the intricacies of real-world fishing without leaving your comfort zone. It's not just about casting your line; it's about mastering patience, precision, timing and strategy - elements that are quintessential in real-life fishing.
Backwater Fishing stands as a beacon within the action genre for its unique blend of serenity and thrill. Its brilliant design brings gamers closer to nature while keeping them on their toes with unpredictable fish behavior - a testament to its remarkable simulation capabilities.
If your idea of thrill is feeling the tug at your line as a fish bites or holding your breath as you reel in a slippery critter from the depths, then Backwater Fishing is undoubtedly for you. This game doesn't just let you experience fishing; it lets you live it.
In conclusion, whether you are an avid gamer with a penchant for fishing games or someone seeking an invigorating escape within simulator games, Backwater Fishing is an exceptional choice that promises richly rewarding gameplay. So cast your line and dive into this picturesque world that playcombo.com has meticulously crafted for you!
What are the best online games?