Backrooms Abandoned Reality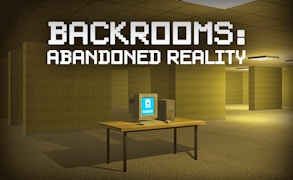 Backrooms Abandoned Reality
Description
In "Backrooms: Abandoned Reality", players are thrust into a disturbing virtual world with only one objective: escape. You're trapped in a complex labyrinth, haunted by a fearsome monster. Your salvation lies in the accumulation of data from various scattered computers and uploading it to a mainframe to free yourself. The game's environment is constantly changing, offering unique challenges each time you play.
How to play
Navigate this terrifying maze using your keyboard's directional keys or W, A, S, D. Your goal is to locate three computers, gather vital data and upload it to the central computer system. However, beware of the lurking creature that could end your game. Successfully upload all data to activate the elevator and escape the dreaded backrooms.
Tips and Tricks
Remember, every encounter with the monster decreases your health. Try to avoid direct confrontation as much as possible. Also, keep notes on your path as the map is randomly generated each time. Be strategic in collecting data from computers- always aim for the farthest ones first, leaving the nearest for last to make your escape quicker.
Features
Unique Gameplay: Each playthrough offers a new map layout thanks to its random generation feature.
Tense Atmosphere: The eerie environment and menacing monster create an intense gaming experience.
Strategic Planning: Collect data while outsmarting a relentless creature.
Evolving Challenge: The further you progress, the smarter and more aggressive the monster becomes.
What are the best online games?