Back To School: Fashionistas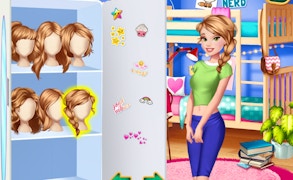 Back To School: Fashionistas
Get ready to step into a world of glamour and excitement with the popular game, Back To School: Fashionistas. This enchanting game, a gem among Games for Girls, seamlessly combines the fun of dress-up games and the creativity of Hairdresser Games. As an added bonus, it caters to those who have a flair for styling with a dash of fashion games thrown into the mix.
Embrace your inner designer as you help your favourite Disney princesses dazzle in the school corridors. But this game doesn't stop at mere outfits. You can take your creativity up a notch by decorating the blackboard to match your princesses' impeccable style. A customised blackboard isn't merely an accessory; it's a statement.
The storyline is both familiar and exciting, making Back To School: Fashionistas one of the most enthused fashion games. The school year is about to begin, so assist your favourite Disney divas in transforming into chic students who steal the spotlight from their classmates. Whether you're dressing them up in cute uniforms or giving them a trendy makeover, these princesses are sure to stand out in every crowd.
If you love fashion and dream of styling beautiful characters, then Back To School: Fashionistas, designed specifically for girls who love dress-up and hairdresser games, is definitely your go-to game. The attention to detail in character designs and clothing options will leave you mesmerised. From uniforms to accessories, everything oozes style and sophistication making it one of the best-dressed virtual schools out there.
In conclusion, if you're searching for an engaging dress-up or hairdressing game that has a distinctive edge over its competitors while also being fun-filled enough for girls of all ages then Back To School: Fashionistas is where your search ends. With its captivating characters and numerous fashion avenues waiting to be explored, Back To School: Fashionistas is not just any game- it's an experience!
What are the best online games?