Baby Dragon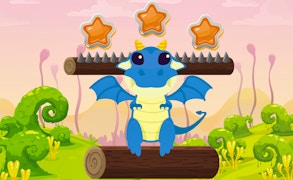 Baby Dragon
Description
Embark on an exhilarating journey with the Baby Dragon Online Jump Adventure Game. This enchanting game is all about guiding a baby dragon to leap, soar, and ascend to unprecedented heights. The task is to help the baby dragon scale floating platforms while avoiding obstacles and collecting power-ups. The game offers engaging gameplay that promises endless fun and excitement for both beginner and seasoned gamers alike.
How to Play
Playing Baby Dragon is straightforward yet challenging. Use your mouse or touch controls to guide the baby dragon's jumps from one platform to another. Your aim is to make the dragon jump as high as possible. Keep an eye out for power-ups that can boost your score and help you progress further in the game. Remember, perfection in timing is key to achieving high scores.
Tips and Tricks
To excel in Baby Dragon, it's essential to master control dynamics first. Practice timing your jumps carefully. Looking ahead and planning your jumps accordingly can make a big difference. Also, don't forget to utilize power-ups, they can provide significant leverage by boosting your score and enhancing your abilities.
Features
An interactive user interface with vibrant graphics that keeps players engaged.
A wide array of enticing power-ups enhancing the gaming experience.
User-friendly controls perfect for both novice and experienced gamers.
A ranking system that adds a competitive element, urging players to beat their own high scores.
What are the best online games?
Tags