Axe of Fury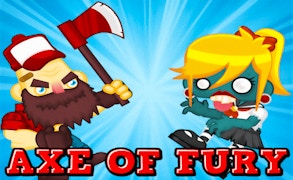 Axe of Fury
Description
In Axe of Fury, you find yourself in a post-apocalyptic world infested by brain-eating zombies. Your goal is to thwart their evil plans and ensure human survival. Your ultimate weapon is your trusty axe, a tool honed for maximum undead decimation. With adrenaline-pumping gameplay and high-caliber graphics, this game tests your acuity, precision, and vigilance in the face of danger.
How to Play
Control your brave warrior using simple keyboard commands. Navigate through desolate landscapes and attack the brain-hungry zombies with your hardened axe. As you progress in the game, your foes will become more challenging; sharpen your skills and prepare to fight to the death. Don't forget to collect power-ups for enhanced abilities!
Tips and Tricks
To survive in Axe of Fury, speed and accuracy are critical. Predict enemy movements and strike before they get closer to you. Watch out for surprises; not all zombies move at the same pace! Also, remember that power-ups can be game-changers — don't miss them.
Features
Engaging Gameplay: Action-packed sequences that'll keep you on the edge.
Intense Graphics: Dive into a realistic post-apocalyptic world.
Customizable Controls: Set controls as per your convenience for fluid movements.
Persistent Progression: Train your character and see him evolve through battles.
Variety of Enemies: Different types of zombies testing varied skill sets.
What are the best online games?