Audrey's Glamorous Real Haircuts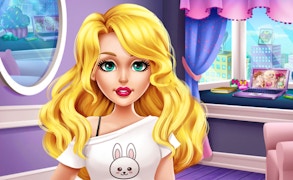 Audrey's Glamorous Real Haircuts
Accentuate your creative flair and step into the world of stunning fashion trends with Audrey's Glamorous Real Haircuts, one of the most well-crafted games for girls out there. This game is an intersection of all things fun, from dress-up to hairdressing, making it a veritable playground for young enthusiasts.
This charismatic game gives you the free reins to be a digital fashionista. You won't just be putting together beautiful outfits but also shaping Audrey's hairstyle to complement her look perfectly! The game pitches you in the middle of a virtual salon where you get to don the hat of a cutting-edge stylist. Your canvas? Audrey's locks! Show off your styling agility in this engaging hairdresser game.
At its heart, the gameplay is about creating fabulous looks by manipulating hair lengths, experimenting with eye-catching colors, and trying out different hairstyles. Tailoring Audrey's hairdo is not just about matching her outfit. It's also about attuning it with her mood, making this one of the most intuitive dress up games.
The customization options are diverse and exciting. You can change Audrey's hair color using vibrant dyes or more natural shades for a subtler look. From an elegant bob cut to bouncy curls, you can style her hair as per your whim. The power to trim or ever-so-dramatically shave off her tresses lends an added layer of fun strategies.
In Audrey's Glamorous Real Haircuts, fashion innovation meets digital entertainment. After perfecting Audrey's hairstyle, dive into wardrobe choices that range from casual chic to downright glamorous in this immersive trendsetting fashion game.
Garnishing it all are makeup choices that add varying degrees of pop to Audrey's features, making this not only one of the best makeup games, but also a fantastic way for young girls to learn about coordinating colors and styles.
To sum it up, whether you're looking for dress-up games, hairdressing games or makeup games - Audrey's Glamorous Real Haircuts has something for everyone; making it an absolute delight for kids who love exploring fashion trends.
What are the best online games?