Atari Missile Command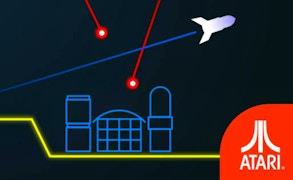 Atari Missile Command
In the realm of retro games, few stand tall like Atari Missile Command. This action-packed classic takes players on a thrilling, heart-pounding journey to save civilization. This isn't just a game, it's a war zone where every decision counts, and every move can mean the difference between victory and defeat.
Missile Command reels in gamers with its relentless, non-stop action. As endless waves of ballistic missiles descend upon your six vulnerable cities, it's up to you to fend off these attacks. This game doesn't restrict you to passive gameplay; instead, it gives you control of three powerful cannons to bring down havoc on enemy artillery. It's not just about being part of the battle games genre; it's about testing your skills in one of the top-tier skill games.
But don't be fooled! The enemy doesn't just rely on conventional warfare. Oh no! They bring drones packed with special explosives, planes that drop mortars and missiles, and evading missiles that come at you when you least expect it.
The stakes are high. With each increasing level, your scores multiply - x1, x2 or even x3. Believe me when I say this – nothing beats the indescribable thrill when your points reach 10.000 and you earn a bonus city. But remember – if all your cities are obliterated – it's game over.
In summary, Atari's Missile Command is the epitome of retro games that combines intense action with strategic gameplay – a potent mix that caters perfectly to lovers of battle and skill games alike. It tests your strategic thinking ability under pressure like wildfire tests a forest: relentlessly and without mercy.
What are the best online games?