Arrow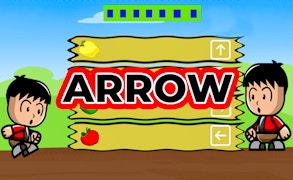 Arrow
Description
Immerse yourself in Arrow, an exciting action game that tests both your reflexes and precision. You become a skillful archer aiming to collect fruits scattered across the screen using your trusty arrows. With stunning animations and engaging gameplay mechanics, Arrow offers a thrilling experience that caters to every discerning gamer's taste.
How to Play
To play Arrow, you simply need to click on the correct directional arrow on the screen. Timing and precision are key as you only have a limited amount of arrows at your disposal. Progress is made by successfully shooting the fruit targets, so aim carefully and shoot wisely!
Tips and Tricks
To excel at Arrow, it's crucial to focus on the speed and timing of your shots. Be patient and wait for the perfect moment to strike. Remember, each arrow missed is an opportunity lost. Also, keep an eye out for special fruits that reward bonus points!
Features
Vibrant Graphics: Enjoy colorful visuals that make the gameplay even more engaging.
Precision-Based Gameplay: It's not just about rapid clicking but making each shot count.
Bonus Elements: Discover special fruits that grant extra points.
User-Friendly Interface: Simple yet effective controls for a seamless gaming experience.
What are the best online games?
Tags