Aroka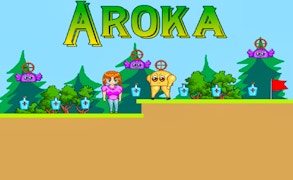 Aroka
Description
In Aroka, you step into the shoes of a charming anime girl on a mission to collect medicine bottles. This 2D, anime-themed platformer will challenge your skills with increasing difficulties over 8 unique levels. Navigate your way through various challenges including enemy monsters, flying creatures, rotating blades, and dangerous spikes. The goal is to reach the yellow flag to proceed to the next level.
How to Play
Control the character using the "WASD" or "Arrow" keys. To perform a double jump, press the "W" or "Up" arrow key twice in quick succession. Your goal is to collect all medicine bottles on each level while avoiding dangers and defeat enemies on your path to the yellow flag marking the end of each level.
Tips and Tricks
Remember, timing is everything in platform games like Aroka. Observe enemies' movements and patterns for successful evasion. Utilize your double jump ability wisely to navigate complex paths and avoid deadly traps. Collecting medicines isn't just a mission objective - it boosts your score too!
Features
Anime-themed graphics: Enjoy visually appealing 2D graphics with an anime theme.
Rising difficulty: Experience increasing challenges over eight different levels.
Variety of enemies: Face different types of opponents and obstacles in your path.
Skillful gameplay: Engage in thrilling gameplay that tests your reflexes and timing.
What are the best online games?