Army of Soldiers: Worlds War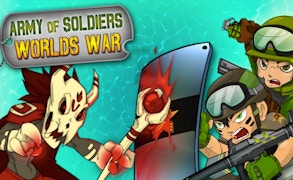 Army of Soldiers: Worlds War
Enter the thrilling, high-stakes world of Army of Soldiers: Worlds War, a top-notch entry in the realm of strategy gun games, monster games, and battle games. This game combines the nerve-wracking intensity of war games with an intricate strategy element that will put your tactical prowess to the test.
You're tasked to protect Earth against a relentless onslaught of alien invaders hell-bent on the complete eradication of humanity. Standing in their way is you and ALPHA DESTRUCTOR 1, your unfinished mega-weapon. Your mission? Hold off these terrifying invaders long enough to complete and unleash this deadly instrument upon them.
The gameplay forces you into a frantic display of strategic thinking filled with quick decisions. The relentless pressure from these monstrous foes brings an insatiable rush that keeps your heart pounding and your fingers flying over controls.
You're battling not just for victory, but for survival; not merely against enemies, but time itself. The ticking clock intensifies the need for strategic foresight within each exhilarating round of gameplay.
In Army of Soldiers: Worlds War, victory is a matter of cunning strategy and precise execution. It's an engaging blend of tactical planning and on-the-spot improvisation as you coordinate your defense efforts repeatedly warding off attacks while maintaining progress on your weapon's construction.
The graphics are immersive, monsters springing to life in rich detail, creating an adrenaline-infused atmosphere that keeps you constantly on edge. The sound design further enhances the gaming experience with its intense war-like acoustics.
If you're a fan of challenging strategy games, intense battle scenarios, or just love a good earth-defending, alien-blasting gun party, then Army Of Soldiers: Worlds War is a must-play game that shouldn't be missed!
What are the best online games?