Army Guns Collector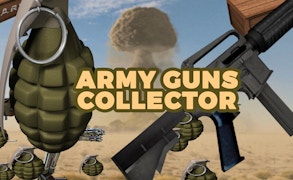 Army Guns Collector
Description
Immerse yourself in the thrilling world of Army Guns Collector, an exciting arcade game that tests your agility and strategy. Your primary task is to swiftly move all types of military weaponry to a wooden box within a span of 15 seconds. With a plethora of different weapons floating around, you'll need to have quick reflexes and a sharp mind to succeed.
How to play
In this game, your reflexes are key. Simply use your mouse or touch the screen to drag the weapons into the wooden box. Each level has different types of weapons that you need to collect, and remember, you only have 15 seconds! Swift and efficient collection will lead to progression through more complex levels.
Tips and Tricks
To master this game, always keep an eye on the timer, as every second counts. Try to start collecting the nearest weaponry first to save time and when possible, multi-drag: selecting multiple weapons at once can be a game-changer.
Features
Fast-paced gameplay: Race against time in this thrilling arcade game.
Diverse weaponry: Collect different types of military-grade weapons.
Skill level progression: The game gets more challenging as you progress through levels.
Simplicity: Simple controls make it easy for anyone to pick up and play.
What are the best online games?
Tags