Aria Baby Room Decoration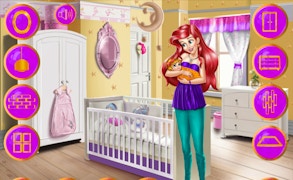 Aria Baby Room Decoration
Welcome all young designers to our review of the incredibly engaging and delightful game - Aria Baby Room Decoration. A real treat for those who love Games for Girls, especially baby games, this offers an interactive world that evokes creativity, fun, and wonderful family moments.
Let the magic of crafting your own vision come alive in this wonderful game. Aria, the happiest mommy in the world, needs your help to make her baby's room a reflection of love and care. From a myriad of furniture options to choosing the color schemes for the walls, you are given absolute freedom to let your inner decorator out. It's like painting your own canvas with joy and laughter. If you loved playing mermaid games or fashion games, this is an equally enchanting world to step into!
The customization doesn't end at rooms alone! In Aria Baby Room Decoration, the fun transcends into fashion too! You get to pick new outfits for both Aria and her adorable baby girl. This heartwarming addition takes personalization one step further, enhancing your bond with these virtual characters.
Through the journey of building baby's dream room together with Aria, each nook and corner reflecting your design abilities, you'll find delight in every minute spent playing this game. With neat graphics and fluid gameplay, it only accentuates the overall joyous experience.
Finally, once you've made sure that everything looks perfect - from the floor design to the shape of window– sit back and revel in satisfaction as you see your masterpiece! This is what makes Aria Baby Room Decoration a gem among baby games.
Hop on board this beautiful journey today and let's make sure Aria's baby has the most amazing room!
What are the best online games?