Apple Princess Pregnant Check Up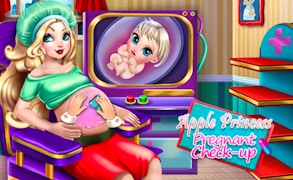 Apple Princess Pregnant Check Up
Get ready to explore the enchanted world of the Apple Princess Pregnant Check-Up, a delightful entrant in the genre of kids' gaming, especially games for girls. As a reviewer, this remarkable game is a perfect blend of light-hearted fun and educational play that will leave you captivated at every stage.
The game revolves around Apple Princess who's about to step into motherhood and needs your assistance in navigating her pregnancy. One of the key features of this game is its focus on health and nutrition which is emphasized as we ensure that our soon-to-be-mommy eats fruits and takes vitamins regularly - a unique feature for a baby game.
One major highlight is how it brings out the curiosity in players through creative elements such as playing music and putting headphones on the belly which not only adds to the interactive elements but makes it more immersive. This thoughtful inclusion brings out a softer side to operation games, making it highly engaging.
The game also provides an opportunity for artistic expression by adding a belly tattoo option, creating an adorable look for the princess. Such innovative scenarios make this game stand out from other conventional princess games.
This captivating journey of the Apple Princess's pregnancy check-up offers an environment that's not just entertaining but also serves as a resourceful learning platform. It manages to strike a balance between fun and development, promoting essential values such as care, nutrition awareness, and creativity amongst kids.
In summation, Apple Princess Pregnant Check-Up is an enriching gaming adventure that brilliantly merges gaming with real-world learning scenarios - making it an ideal choice for all children who want their daily dose of fun coupled with lessons that extend beyond mere play. Check out this exceptional blend of delight and education wrapped in one royal package!
What are the best online games?