Annie Halloween Party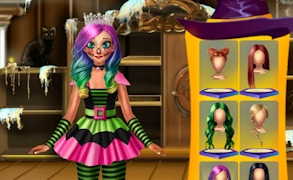 Annie Halloween Party
Welcome to the enchanting world of Annie Halloween Party, the ultimate game for every kid, and especially catered for girls who have a deep love for dress up games, hairdresser games, makeup games, and fashion games. This game is a dream come true for those who want to unleash their creativity and style.
Annie Halloween Party embarks you on an exciting adventure where Halloween gets a whole new makeover. Much more than just scary, you get to transform it into a fantasy fest! Our princess, Annie, needs your help in preparing for her special Halloween party. Witness your imagination come alive as you choose from a vast wardrobe of outfits each more enchanting than the last.
However, it's not just about dressing up. Dive into our exclusive Hairdresser Games where you give Annie some hair-raising styles that will make heads turn! Furthermore, with our captivating Makeup Games, you are the artist painting your canvas with shades of fun and fright. Add that magical touch with Halloween-themed makeup to create looks that are hauntingly beautiful.
A perfect blend of dress-up and creativity, this game allows kids to express themselves uniquely - mixing and matching styles to create their own spooky fashion statement. As part of our sparkling collection of Fashion Games, Annie's Halloween Party encourages your style intuition while ensuring hours of endless fun.
In summary, Annie's Halloween Party is a magical realm where fashion meets fantasy. This game is an absolute treat for girls looking for interactive gaming experiences this coming Halloween season!
What are the best online games?