Anime Blue Mermaid Coloring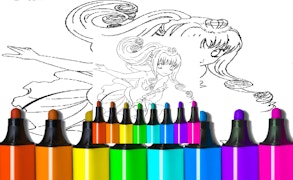 Anime Blue Mermaid Coloring
Description
Immerse yourself in the vibrant underwater world with Anime Blue Mermaid Coloring. The game offers an array of enchanting mermaid images in a distinctive anime style ready to be brought to life with color. Equipped with various coloring tools and effects, you are free to create stunning artworks that are uniquely your own. This easy-to-use game caters to both children and adults, offering a delightful platform for artistic expression and relaxation.
How to Play
Playing Anime Blue Mermaid Coloring is simple. Choose an image from the collection and use the coloring tools provided to fill it with color. Select a tool, pick your favourite color from the palette and start painting. Zoom in for precision or try out different effects to create unique textures. There's no time limit so take your time to explore your artistic side.
Tips and Tricks
For a smoother gameplay experience in Anime Blue Mermaid Coloring, plan your color scheme ahead. Work on larger areas before filling in finer details for a more balanced picture. Experiment with different tools and effects combinations to achieve varying artistic styles.
Features
A wide variety of Anime Blue Mermaid images to choose from.
A comprehensive palette of colors.
Different coloring tools and effects.
A zoom-in feature for detailed coloring.
No time constraint allowing leisurely gameplay.
Suitable for all ages.
What are the best online games?