Animal Rescue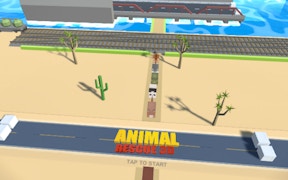 Animal Rescue
Take a walk on the wild side with Animal Rescue, a captivating blend of arcade and survival games that brings to life the thrilling realm of animal games. This game will test your mettle by thrusting you into an adrenaline-filled journey of survival, challenging your wits as you navigate through dense forests and rushing rivers to help adorable animals reach the safety of their farm.
Stepping into the paws of various creatures, you'll need to employ cunning tactics and quick reflexes to dodge voracious predators in this survival game. Whether it's outsmarting a prowling panther or eluding an eagle's keen eye, Animal Rescue's dynamic gameplay keeps you on your toes at all times.
The survival aspect beautifully merges with arcade-style mechanics, providing an immersive experience that's both fun and engaging. As you progress through the myriad levels, each teeming with dangerous obstacles and hidden threats, you'll find yourself completely drawn into this vividly-woven world.
The intricacy of animal games displayed in Animal Rescue is like melding Super Mario's nail-biting gameplay elements with Tarzan's raw wilderness adventure. The charm lies in its simplicity - a straightforward objective amplified by exceptional pacing, daunting challenges and a heart-thumping survival theme.
In conclusion, if you're after a fresh experience on the arcade platform and relish the idea of indulging in intense survival games featuring our furry friends in unique avatars, get ready to surrender yourself to Animal Rescue! With its relentless quests for survival that stoke your fear while nourishing your bravery, this is one animal game that truly roars above its kin!
What are the best online games?