Angry Farm Crossy Road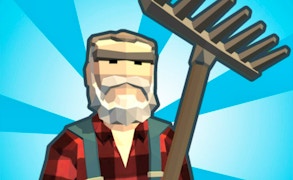 Angry Farm Crossy Road
Welcome to our vivid review of the captivating arcade game, Angry Farm Crossy Road. This enthralling escapade, teeming with delightful fun, blends several gaming genres such as animal games, farm games, and running games; making it a standout amidst conventional titles.
The game springs into action with a classic farmyard predicament; an inadvertently left open farm gate. The curiously adventurous chickens seize this moment to explore the world beyond their coop. Herein lies your mission - to aid the flustered farmer return these plucky poultry back to the safety of their barn while dodging precarious obstacles on the bustling road.
In Angry Farm Crossy Road, not only do you steer these fowl characters home, but also gather as many eggs as feasibly possible. It's not just an exciting addition to the rich genre of animal games, it's a riveting exercise of precise timing and sharp reflexes akin to leading categories of Skill Games.
The controls are as simple as they come, reminiscent of classic car games, making it accessible for players of all skill levels. Yet beneath this seemingly simplistic premise lies a deeply engaging gameplay that will test your focus, agility, and strategic planning.
In terms of graphic design and soundscape, Angry Farm Crossy Road is delightful and immersive. Its cartoonish charm is coupled with a dynamic soundtrack that perfectly matches the frenzy of dodging traffic and guiding chickens home.
In conclusion, if you're seeking an astoundingly addictive game that artfully blends elements from various genres - from car games to farm-life simulation - trust in Angry Farm Crossy Road to deliver on all fronts! Here's your chance to be part chicken whisperer, part egg collector, and part traffic controller all in one go!
What are the best online games?