Among Yetto Bots 2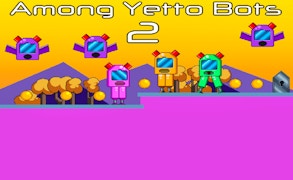 Among Yetto Bots 2
Description
Immerse yourself in the futuristic world of Among Yetto Bots 2, a riveting 2D platformer set in a sci-fi universe. In this thrilling sequel, your mission is to gather all the golden orbs scattered throughout each level while avidly avoiding a variety of menacing enemy bots. Discover traps, bullets, and spikes hidden within the 8 progressively challenging levels that stand between you and ultimate victory.
How to play
Navigate your bot using either the "WASD" or "Arrow" keys; pushing upwards twice triggers a double jump for those hard-to-reach places. Your objective is to collect all golden orbs and reach the exit door without succumbing to enemy attacks or falling into traps. Practice makes perfect as you adapt to increasingly difficult levels.
Tips and Tricks
Mastering the double jump feature is crucial for navigating through treacherous terrains and reaching high platforms. Remember, timing is everything - avoid rushing into enemy-infested areas without a plan. Study their patterns, recognize when to move, and when to strike.
Features
Engaging 2D platformer with sci-fi elements.
A variety of enemies and traps add depth and challenge.
8 unique levels, each offering increasing difficulty.
The ability to control your bot's movement precisely with simple controls.
What are the best online games?