Among Rampage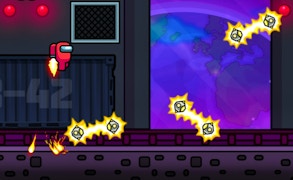 Among Rampage
Welcome to our exclusive arcade review of the ultra-fun amalgamation of running games, skill games, and flying games. In our crosshairs today is the brilliantly conceived and superbly executed – Among Rampage!
Among Rampage, available for free on kiz10.com, is an adrenaline-packed ride that embodies the pure essence of arcade gaming. It invites you into a world where adorable, infiltrated characters are locked in dangerous dungeons teeming with obstacles.
What makes Among Rampage a standout among arcade games is its carefully crafted gameplay mechanics. It fuses together elements from multiple genres - offering a novel blend of running games, where timing and precision are key; skill games, requiring sharp wit and quick decision making; and flying games, adding an extra layer of excitement with gravity-defying maneuvers. Each dungeon run in Among Rampage becomes an engaging mix of these elements, keeping you on your toes at all times.
The excitement doesn't stop there! The lovable characters, their captivating storylines, and their enigmatic escape from tricky dungeons make for a compelling plot that grips you from start to finish.
A unique feature about this game is that it's not just entertaining but also challenging – ensuring every level seems like a fresh adventure. The perfectly balanced difficulty curve provides both seasoned players and newcomers with ample challenges to test their gaming prowess.
In conclusion, Among Rampage is an addictive arcade experience - one that masterfully combines different game genres into a cohesive, fun-filled package. Whether you're hunting for your next favorite running game, anticipating your skills being tested in intense dungeon runs or looking for high-flying thrills - Among Rampage has got you covered!
So why wait? Embark on this extraordinary journey now! Play Among Rampage, challenge your skills, conquer those daunting dungeons and soar high towards victory!
What are the best online games?