Among Chen Bots 2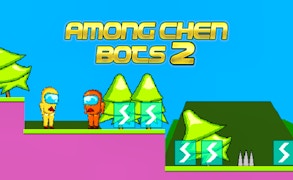 Among Chen Bots 2
Description
Leap into the electrifying world of Among Chen Bots 2, a captivating 2D platformer adventure. Navigate through dangerous terrains, dodge treacherous enemy bots, and collect vital blue energy boxes. With each level bringing increased difficulty, you'll be continually challenged as you make your way to the exit door and progress through all 8 exhilarating levels.
How to Play
Mastering the controls is key to survival in Among Chen Bots 2. Use the "WASD" or "Arrow" keys for moving your player around the perilous world. Implement a strategic double jump by quickly pressing "W" or the "Up" arrow key twice to evade dangers and clear obstacles.
Tips and Tricks
To excel in this game, understanding enemy patterns is crucial. Devise a strategy to sidestep rolling bots, duck under bullets, and leap over flying adversaries. Utilize a well-timed double jump when necessary, but be careful not to overuse it as this can lead to mistimed actions.
Features
An immersive 2D platform experience.
Clever level design to test your skills.
Intricate enemy bot patterns for challenging gameplay.
A unique double-jump mechanic for evading threats.
What are the best online games?