Among Akero Bots 2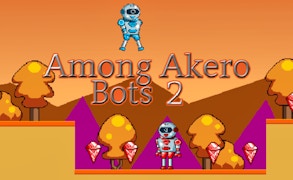 Among Akero Bots 2
Description
In Among Akero Bots 2, you've been transported into a futuristic Sci-fi world. Assume the role of an adventurous bot named Akero on a mission to collect valuable red magical gems. Be alert! You'll face an array of challenges including enemy bots and deadly traps such as flying robots, bullets, rotating lasers, and spikes. With eight increasing difficulty levels to conquer, can you survive and make it to the exit door?
How to play
The game's controls are simple yet responsive. Use either the WASD keys or the Arrow keys to move Akero around in the 2D game environment. Execute a double jump by rapidly pressing either the "W" key or "Up" arrow key twice - absolutely crucial for dodging enemies and hazards! Your ultimate goal: reach the exit door of each level.
Tips and Tricks
Maintain control over your jumps - it's easy to overshoot! Double jumping is valuable for bypassing higher obstacles and enemies but be careful not to overuse it as it could send you straight into danger. Remember, patience is key in platformer games like this; don't rush!
Features
Immersive Sci-fi theme: From bots to lasers, enjoy a futuristic vibe.
Increasing difficulty levels: Eight unique levels that raise in challenge.
Diverse challenges: Encounter various enemies and daunting obstacles.
Straightforward controls: Easy-to-use interfaces making navigation simpler.
What are the best online games?