Alien Hunter Bros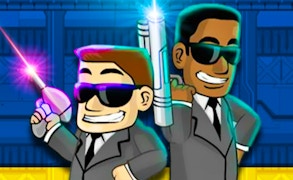 Alien Hunter Bros
Get your game face on as you step into the universe of "Alien Hunter Bros", a thrilling gaming experience like no other. Designed specifically for those who love engaging in 2 player games, it offers an adrenaline-pumping storyline where every second counts, and every move makes a difference.
Journey through challenging terrains, enter the unknown, and battle it out with extraterrestrial entities! This is not just one of those usual monster games, this is a world where you and your friend are the last hope against an intimidating alien invasion. It is a battle against time and strange creatures from another galaxy.
In "Alien Hunter Bros", teamwork is everything. Can you maneuver past the obstacles? Can you outsmart the aliens who lurk in corners hard to move? Remember, one distracts while the other one traps. It's all about strategy and quick thinking in this fascinating world of battle games.
You're no ordinary player here; you're an intervention agent with a mission - catch those aliens and save the world! The thrill of stealthily sneaking past barriers, the tension as you strategize your next move, and the exhilarating feeling of capturing aliens before they even know what hit them, all make up for an experience that keeps gamers on their toes.
"Alien Hunter Bros" takes 2 player gaming to another level, blending action, adventure, skillful maneuvers, cunning tactics, and most importantly – monstrous aliens! So grab a friend and get ready to plunge into an epic journey filled with adventure at each turn in "Alien Hunter Bros".
What are the best online games?