Alien High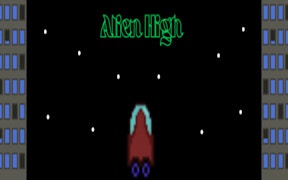 Alien High
Are you ready to be enthralled in a cosmic adventure? Then get your gaming fingers prepped for Alien High, a standout in the arcade genre. This high-stakes, high-adrenaline game is designed to test your dexterity and quick-thinking skills in an immersive setting, making it a must-try for lovers of skill-games and tap-games.
The premise of Alien High is deceptively simple: guide an adventurous extraterrestrial through laser-laden terrains, leaping higher and higher into the limitless expanse of the universe. But don't be fooled by its simplicity. The game demands lightning-fast reflexes, strategic maneuvering, and a thirst for out-of-this-world excitement.
The protagonist of Alien High is an endearing little alien with agility that would put an Olympic gymnast to shame! Navigating this agile hero through the game's challenges has an addictive quality; there's nothing quite like narrowly escaping a laser blast by a whisker or discovering new platforms just when you thought you were about to fall into oblivion.
What distinguishes Alien High from many other games in the arcade genre is its tap-and-go mechanics. The controls are incredibly responsive; each tap propels our alien hero with precision and subtlety that allows for exhilarating gameplay. This serving of skillful control mechanics places Alien High prominently among the most engaging tap-games.
In conclusion, if your gaming tastes veer towards fast-paced action, thrilling heights, and showcasing your stellar reflexes, then look no further than Alien High. It's more than just a tap-game or skill-game. It's a cosmic ballet where you pull off death-defying leaps and dodge onslaughts of lasers. So, buckle up and get ready to conquer the cosmos with Alien High.
What are the best online games?
Tags