Agumo 2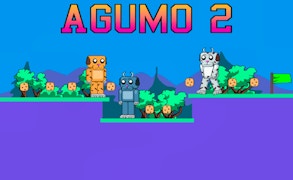 Agumo 2
Description
Embark on an exciting cookie-collecting quest in Agumo 2, a dynamic 2D platformer. Shoot through action-filled levels, filled with enemies and challenges that will keep you on your feet. The game boasts a total of 8 escalating levels of difficulty, guaranteeing a thrilling gaming experience for adventurers seeking for a challenge.
How to Play
Maneuver your character using the "WASD" or "Arrow" keys. For evasion tactics and reaching higher platforms, press the "W" or "Up" arrow key twice to perform a double jump. Your goal is to collect all cookies scattered across every level, avoid obstructions and reach the green flag which signifies the end of each level.
Tips and Tricks
To excel at this game, always maintain an acute awareness of your surroundings. Keep an eye out for hidden cookies and learn the patterns of enemies in order to dodge them effectively. Master the timing of your double jumps to surpass difficult terrains and obstacles like saws and spikes.
Features
Eight Challenging Levels: Complete progressively difficult levels for endless entertainment.
Intricate Controls: Enjoy intuitive gameplay with easy-to-learn controls.
Creative Obstacles: Overcome diverse obstacles including enemies, saws, and spikes.
Coin Collection: Collect as many cookies as you can throughout your adventure!
What are the best online games?