90 Degrees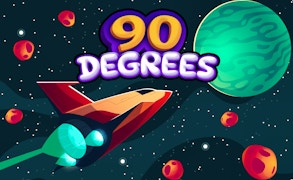 90 Degrees
Salutations, fellow gamers and lovers of arcade delight! Immerse yourselves in the rollercoaster ride that is 90 Degrees, a riveting dip into the realm of ball games and skill games. If you are on the hunt for a game that truly tests your dexterity and agility without compromising on fun, consider your search officially over.
The heart of 90 Degrees, an exceptionally designed adventure, lies within its unique and compelling concept: escape or perish. In this thrilling escapade, you find yourself trapped within a box-like universe, challenged by an onslaught of objects that rain down upon you. And oh, did we mention the 'weird' way in which you move? Yes, it's all part of the game's irresistible charm.
Unlike other mundane ball games where your movements are predictable and boring, 90 Degrees tosses that boring playbook out the window. The unexpected is a constant companion as you navigate through this high-adrenaline experience. With every move dictating your survival, scoring high is not just about luck but a true testament to your skill.
The beauty of 90 Degrees, however, extends beyond its gameplay dynamics. The smooth graphics and intuitive controls make it easy for both novices and seasoned gamers to adapt quickly. So whether you're casually passing time or looking to dominate the leaderboards in competitive play, this game will serve as an ultimate joyride.
In an era where arcade games can feel repetitive or uninspired, 90 Degrees stands out as a harbinger of freshness and excitement. This exquisitely crafted gem embodies what ball games and skill games should represent – pure, unadulterated fun with a dash of challenge thrown in for good measure. Unleash your gaming prowess with 90 Degrees – it's an encounter too enticing to miss!
What are the best online games?
Tags