3D Maze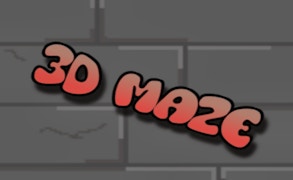 3D Maze
Welcome to the world of 3D Maze, a riveting journey that transcends the realm of ordinary adventure games. With its trinity of compelling gameplay, impressive visuals, and engaging narrative, it stands strong within the bustling industry of running-games and escape-games.
From your first steps in the labyrinthine world of 3D Maze, you are plunged into an interactive rhapsody of intrigue and suspense. This game is no mere jaunt through a labyrinth; it's a pulse-pounding escape from an ever-changing, complex digital enigma.
The gameplay is similar to many traditional running games, yet it has been amplified and made thrilling within the confines of this three-dimensional maze. Your strategizing ability will be put to the ultimate test as you plot your way through these perplexing paths.
Your mission? To escape. But this task is far from simple. You'll have to rely on quick reflexes and fast decision making to successfully navigate your way out. The labyrinth changes and evolves, demanding constant adaptability.
The aesthetic beauty of 3D Maze separates it from the pack. With every turn, with every step forward, the player is rewarded with visually stunning landscapes that surprise as much as they delight. The 3D graphics bring life to an otherwise inanimate setting.
In conclusion, 3D Maze takes a simple concept - the escape game - and amplifies it into a nerve-wracking yet exciting adventure experience. It's limbo laced with adrenaline and it beckons audacious gamers who crave a challenge.
If you're seeking an adventure game that offers more than just mindless wandering through landscapes or fast-paced running games that only test your reflexes, unlock the enigma of 3D Maze. Navigate the labyrinth. Dive into the unknown. Embrace the adventure, and escape to victory.
What are the best online games?