2018 New Fashion Look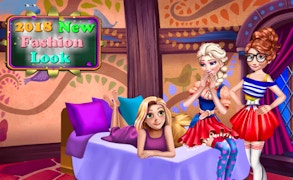 2018 New Fashion Look
Sparkle, style, and imaginative play come together in the delightful 2018 New Fashion Look, a captivating addition to the pantheon of Games for Girls. This charming game manages to meld the worlds of Princess Games, dress up games, and fashion games into one immersive experience. It's a glimpse into a kingdom of creativity and glamour.
In this enchanting scenario, we meet three darling princesses – Rachel, Ellie, and Annie. The lovable Princess Rachel is eager to greet 2018 with an updated wardrobe and enlists the help of her fashionable friends. Adorable graphics radiate warmth, friendship, and joy as players help these princesses design stunning dresses.
The detailed artwork involved in creating each fairytale frock is beautifully intricate. Whether you're a fan of ruffles or simple silhouettes, there's plenty to dazzle your imagination in the dress-up aspect of this game. The dynamic between the princesses deepens the gameplay experience - it isn't just about pretty clothes; it's about working collectively towards a common goal.
2018 New Fashion Look doesn't just offer an engaging gaming experience; it presents an opportunity for young designers to nurture their sense of style. As you collaborate with Ellie and Annie to create magical outfits for Rachel, you learn about color combinations, fabric textures, and style trends. It's an exciting marriage between entertainment and education.
Drenched in fantastical charm and glittering with delightful details, 2018 New Fashion Look guarantees hours of fun for its players. If you enjoy vibrant visuals and have an eye for fashion, this game will be your perfect fit. Don't miss out on this fashionably fun adventure!
In conclusion, if you've been on a quest for a game that combines creativity with charisma while fostering teamwork among its characters - look no further than this gem among dress up games, 2018 New Fashion Look.
What are the best online games?