123 Draw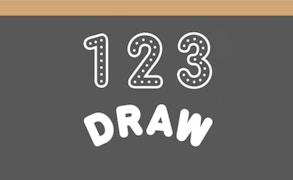 123 Draw
Embark on an exhilarating journey into the world of educational games with 123 Draw! Designed to strike a perfect balance between entertainment and learning, this game redefines what it means to play games for kids.
Presenting a delightful blend of creativity and education, 123 Draw puts you in the driver's seat of your child's learning experience, making it one of the best drawing games in the market. It cleverly combines aspects like drawing, coloring, and number recognition – bringing a whole new level of dynamism to the usual number games we have grown used to.
The premise is simple yet effective – kids learn to draw numbers in a playful way on various devices including phone, tablet or computer. The brilliance lies in its execution; each stroke feels like an adventure, each number an exciting challenge. This not only stimulates their minds but kindles their imaginative spirit as well.
The game's colorful design is another facet that sets it apart from other typical coloring games. Its vibrant hues bring life to the numbers as they guide your little one through the journey of exploration and understanding. This fusion of fun and learning has been neatly wrapped by Nau.kids into a package that's both satisfying and rewarding.
If your child is venturing into the realm of numbers, 123 Draw provides an excellent platform for them to engage with numerals actively. Being one of the innovative learning games, it effectively bridges the gap between knowledge and application in a way few can match.
In conclusion, when it comes to educational games for children, 123 Draw stands tall as a beacon of blending learning with play. It successfully reinvents what we've come to expect from our children's apps; moreover, allowing kids not just to learn but also enjoy this process makes it truly priceless!
What are the best online games?