1 Line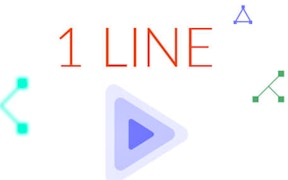 1 Line
Description
In the game 1 Line, players are challenged to draw a continuous line that crosses every edge exactly once. This captivating brain teaser requires spatial reasoning and careful planning. Each level presents a unique shape, and it's your task to figure out the path for one continuous line that connects all points.
How to Play
Click on the starting point and drag your mouse to move through the design. You must pass through every edge, but only once. There's no time limit, so you can take your time to think. As you progress, levels become more complex and difficult, involving multiple paths and crossing points.
Tips and Tricks
Start by identifying any dead ends - points with an odd number of edges. Try to avoid passing through these early in the puzzle as you'll need multiple entry/exit points till the end. You can also try a 'trial-and-error' approach as there are often multiple solutions.
Features
Pure mental workout: A simple yet challenging game that tests your spatial thinking abilities.
Hundreds of levels: Never run out of puzzles with hundreds of levels available, each with increasing complexity.
Suitable for all ages: Great for kids working on their problem solving skills or adults looking for a brain tease.
No time pressure: 1 Line is a game in which you can take your time and work at your own pace.
What are the best online games?
Tags