Zxtrue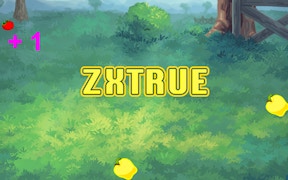 Zxtrue
Welcome to an immersive journey through the technicolor forest of Zxtrue, a unique game in the hall of fame of puzzle genre, setting it apart within the crowded realm of hyper-casual-games. The premise? Simple, yet compelling: your mission is to collect only the red apples and you'll need to be swift about it.
Flirting with the boundaries of whimsy and logic, Zxtrue masters the art of engaging players in an adventure imbued with simplicity and intensity. The game effortlessly marries hand-eye coordination with acute quick-thinking skills. With each red apple you collect, you'll find yourself drawn deeper into this enchanting world, your attention ensnared by the growing obsession to surpass your previous record.
The 'red-apple-only' rule imparts a delightful twist that turns a seemingly benign stroll through a verdant forest into a high-octane quest for a crimson bounty. The design is visually striking: a radiant palette punctuated by bold red apples against a verdant forest backdrop. This creates an impactful contrast, allowing players to easily spot their targets amidst the teeming wilderness.
Zxtrue is more than just another offering in the puzzle genre. It is an exhilarating exercise for your grey cells, wrapped up in casual graphics that defy its underlying complexity. This game is not about reaching an endpoint or unlocking levels; rather, it's about outsmarting yourself with every new attempt.
In conclusion, whether you are new to puzzle games or a seasoned veteran seeking for fresh challenges, Zxtrue promises an engaging brain-teasing experience in the heart of a vibrant forest. In this quest for speed and precision, you'll find yourself returning again and again, eager to beat that tantalising personal record.
What are the best online games?
Tags