Zombie at Dentist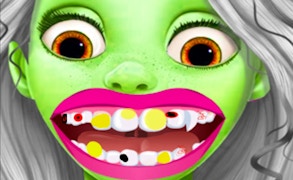 Zombie at Dentist
Welcome to the delightfully eerie world of Zombie at Dentist, an innovative masterpiece that brings together two incredibly popular tags: Games for Kids and Zombie Games. This unique puzzle game adds a stunning spin to the traditional genre of Operation Games by challenging young gamers to become the dentist for a young zombie girl.
Imagine, if you dare, stepping into the shoes of a dentist with a difference; your patient isn't your everyday human, but rather, a charming little ghoul with an array of oral health issues. The challenge is well-crafted and demands you employ all your puzzle-solving skills to ensure your patient leaves sporting a healthy and gleaming zombie smile.
These aren't just any old dentist's tools you're handed; no indeed, this game sees you equipped with an array of unconventional contraptions designed specifically for treating the undead. This mechanic significantly enhances the fun factor and will have kids of all ages enthralled for hours on end as they tinker away happily, striving to fix our lovely little ghoulish girl.
The high-quality graphics, engaging narrative, and captivating gameplay offered by Zombie at Dentist sets it apart from other average Kids Puzzle Games. Its intuitive design ensures that gaming novices can easily get their hands dirty (or bloody perhaps?), whilst more seasoned players can enjoy delving deeper into the strategic elements involved in professional zombie dental care.
This game offers a unique spin on the typical gaming dynamics associated with both puzzle games and operation games. It provides players with a genuinely emotional and satisfying experience. With its easy controls and seamless mechanics, this game is sure to keep kids entertained and engaged whilst also testing their problem-solving abilities.
In conclusion, Zombie at Dentist is a fun-filled adventure that seamlessly blends elements from numerous genres to create an engaging and memorable gaming experience that stands out brilliantly in the crowded market of Kids' Puzzle Games.
What are the best online games?