Yummy Super Burger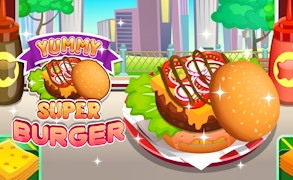 Yummy Super Burger
Description
Delve into the sizzling world of Yummy Super Burger, where you have the exciting opportunity to create your very own mouth-watering burgers! This game takes you through every step of the culinary process. From preparing the ingredients to serving your customers, each task is designed to enhance your cooking skills and speed. Rise to the challenge and satisfy those burger cravings!
How to Play
The game controls are simple and intuitive, keeping you focused on crafting those delectable burgers. Follow each step on the task list, carefully executing each part of the recipe. From chopping and grilling to assembly and serving, every task contributes to your final product. Keep an eye on the clock though! You'll need to serve your tasty creations on time.
Tips and Tricks
To succeed in this game, maintain a steady pace by focusing on time management. Prioritize tasks according to their time consumption. Another key strategy is mastering multitasking; while one burger is grilling, start preparing another one. This way, you're always a step ahead!
Features
Culinary Creativity: The game allows players to explore their culinary talents by crafting their own delicious burgers.
Tactical Time Management: Players must keep an eye on time while juggling multiple tasks.
Addictive Gameplay: Offers increasing levels of difficulty for continuous engagement.
Kid-friendly Interface: Easy-to-use controls suitable for children.
What are the best online games?