Yatzy Friends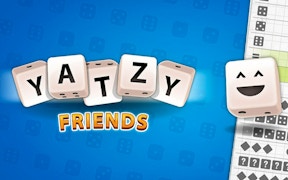 Yatzy Friends
If you're on the hunt for a captivating family game to keep everyone entertained during Friday night gatherings, or just seeking a delightful 2 player game to challenge your best mate, prepare to meet your new match with Yatzy Friends.
Yatzy Friends is not just a number game, it's a thrilling, dice-rolling ride that's bound to hook anyone who dares to roll. It is Yatzy at its finest, with an engaging twist. You'll play against the true Yatzee Masters in a test of strategy and luck. You'd be surprised at how nail-biting rolling five dice can get when your competitive streak kicks in!
The magic about Yatzy Friends is that it's as conducive to cozy family game nights as it is to intense 1-on-1 showdowns. This makes it a versatile choice among other 2 player games, striking the perfect balance between simplicity and challenge.
An aspect worth highlighting for all the number crunchers out there - this game will without doubt, challenge your mathematical prowess. Being strategic with your numbers and luck could lead you to ultimate victory making this game quintessential among other number games.
In summation, Yatzy Friends provides an absorbing blend of strategy, risk-taking and sheer luck - perfect if you're after engaging family games. Whether you're an ardent fan of dice games, or simply exploring new strategies in number games, Yatzy Friends can hold its own against its peer 2 player games. It's an entertaining addition that deserves space on your gaming shelf.
Rack up your points; roll those dice; and make Yatzee Masters bow down! Are you ready for the exhilarating ride that is Yatzy Friends?
What are the best online games?