Yatzy Classic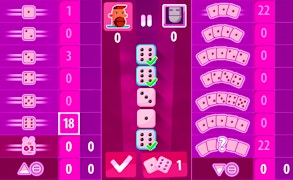 Yatzy Classic
Immerse yourself in the classic world of dice with Yatzy Classic, a game that's been delighting families and challenging number-crunchers since its debut. This game audaciously blends elements of strategy and luck, making it an ideal choice for board game enthusiasts hunting for engaging 2 player games or family games.
No matter where you fall on the scale of board-game adeptness, Yatzy Classic is bound to go beyond your expectations. This isn't simply a game; it's a numerical adventure where every round is unpredictable. Each of the game's 13 rounds requires strategic thinking, pushing players to make calculated decisions to earn as many points as possible.
The crux of the game lies at its core - it's all about numbers and how you play them. The dice are deceptively simple: they can yield delight or despair depending on how they land. But let's not forget the thrill - nothing beats the exhilarating tension that builds every time those dice tumble and spin!
Yatzy Classic is more than just a cornerstone in the realm of number games. It offers endless hours of fun, camaraderie, luck, strategizing, triumph, and suspense. It harks back to simpler times while perfectly aligning itself with today's demand for engaging family entertainment.
In a world overwhelmed by digital diversions, Yatzy Classic brings people together in a way few other games can match. It has been designed to be easy to learn but challenging to master; truly appealing for gamers at any skill level.
If you're searching for a classic board game that promises hours of fun for all ages and skill levels – be it an adrenaline-pumping face-off between two players or an amiable family contest – look no further than Yatzy Classic.
What are the best online games?