Xtreme Dirt Bike Racing Game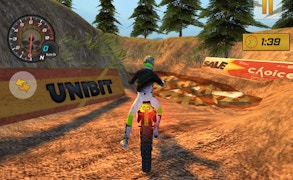 Xtreme Dirt Bike Racing Game
In the adrenaline-filled world of driving games, the Xtreme Dirt Bike Racing Game takes you on a fast-paced journey unlike any other. As one of the standout dirt bike games in the arena, it uniquely blends high-octane speed with precision maneuvering, promising an exhilarating ride from start to finish.
The joy of this game lies in conquering its unpredictability. Imagine a monstrous machine under your control, racing against time and terrain. Sounds thrilling? That's because it is. The Xtreme Dirt Bike Racing Game catapults you into a whole new universe of motorcycle games where rough terrains and precarious turns are your battlegrounds.
The tracks in this game are as treacherous as they are varied. Not for the faint-hearted, players are tested on their driving skills as they navigate through rugged terrains and bumpy roads that are as challenging as they are engrossing. In this stampede of steel, you'll be handling these monster bikes like an assault weapon—adding a unique combat element to the mix.
And then there's the drifting. Pioneering among drifting games, Xtreme Dirt Bike Racing Game has successfully integrated drifting mechanics into off-road biking—requiring not just speed but tactical precision to master these terrains in style.
In conclusion, Xtreme Dirt Bike Racing Game isn't just another addition to the list of motorcycle or drifting games—it's a tour de force in the world of driving games that takes you deep into uncharted territories with its engaging gameplay and exciting tracks. So fasten your seat belts, rev up your engines, and prepare for an unforgettable ride!
What are the best online games?