World Cup Glass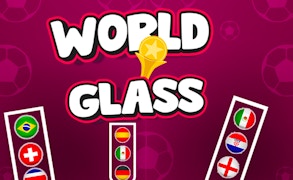 World Cup Glass
Description
In the intriguing and mind-boggling game World Cup Glass, your task is to sort colored balls, each representing a different country's flag, into corresponding tubes. The surrounding environment is filled with the exhilarating spirit of the World Cup. Your mission is to make sure each tube contains balls of the same color. This brain-teasing game provides a perfect combination of fun and relaxation.
How to Play
The game control is very simple - just drag and drop the balls from one tube to another. The catch? You can only move a ball on top of another ball in a tube if both are of the same color. You progress to next level when all tubes at your current level have balls of the same color.
Tips and Tricks
Plan your moves before you start sorting for an effective play. Also, remember that you don't necessarily need to fill all tubes, sometimes leaving some empty can be a clever strategy. Put your problem-solving skills to work and keep playing for higher scores.
Features
Mind-tickling Puzzles: A great brain exercise that challenges your logic and strategy.
Simplicity: Easy-to-understand gameplay with simple controls.
Rewarding: Levels provide progressive difficulty, each victory feels like an achievement!
Casual gaming: A perfect go-to game for short breaks or long hours of leisure.
What are the best online games?
Tags