Wordmeister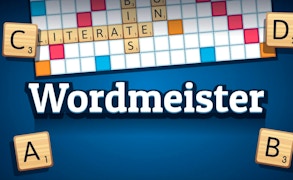 Wordmeister
With its electrifying blend of strategy and linguistic prowess, Wordmeister reigns supreme in the realm of brain games and word games. A must-have for family games night or competitive sessions with friends, this is a game that will challenge your command over the English language in the most thrilling way.
The concept is simple: create valid words from a selection of tiles to make your mark on the scorecard. However, as any seasoned player will attest, beneath this simplicity lies a deeply engaging game that's perfect whether you are looking for 2 player games or larger groups.
You drag and drop tiles to construct words, using strategy and intuition to harness the power of bonus tiles. Double letter scores, triple word scores – these are not just bonuses; they can alter the fate of the game! Wordmeister's sophisticated gameplay invites you to test your vocabulary and outwit your opponents.
The distinguishing feature that separates Wordmeister from other word games like Scrabble is its intelligent AI player. Whether you're honing your skills solo or simply looking for a worthy opponent, the AI player adapts seamlessly to provide an immersive experience every time.
Last but not least, Wordmeister's colossal selection of words consistent with worldwide competition standards makes this a choice pick for serious word game fans. Its rich library ensures every match is unique and challenging.
In conclusion, Wordmeister is more than just another entry in the word games category. It promises an engaging and cerebral gaming experience that tests your strategic thinking and lexical prowess in equal measure - a crowning jewel among family games and 2 player games alike!
What are the best online games?